Photo Gallery (also vist Brockton's
personal gallery
)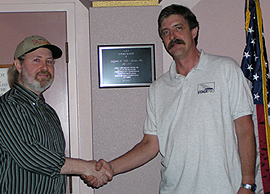 This one requires some set-up: My father, Clifton S. James, Jr., was very active in community theatre in Southern CA in the 1950's. Upon moving to Paradise in the early 60's, he essentially brought theatre to the town--hardly anyone knew much about live theatre! His first endeavor was a highly-acclaimed production of "Oklahoma!" followed by "Show Boat." These productions were presented on a small stage in the High School gym. My father had much foresight, and knew that Paradise would benefit from a "real" auditorium. Therefore, he researched, and set up a committee, thereby laying the groundwork for a new auditorium. Unfortunately, he passed away in 1979, but his dream later became a reality, as we have a beautiful, state-of-the-art facility, known as the
Paradise Performing Arts Center
. Backtracking, though, a couple years after his death, at a tribute production of "The Music Man," my mother and I were presented with a plaque which was to later be on display in the new auditorium. Many years went by, the auditorium was subsequently built, and as the effect of time passing will sometimes have, that little plaque was essentially forgotten by most. Over the last couple of years, though, I had come to know the Technical Director, and PPAC Manager, Bruce Dick (pictured with me above). Through his efforts, I am proud to say that the plaque was put on display in April of 2003 in the lobby. My sincere appreciation goes out to everyone at the PPAC. (Photo by Rexene Collier)
The plaque reads: "In honor of the memory of Clifton S. "Kip" [my Dad's nickname] James, Jr. 1921-1979. Whose love for the arts was surpassed only by his love of family, community, and country. Because of that love in which he gave so generously of his time, his talents, and his energies, the theatre will always be a part of the cultural life of Paradise."
My friends George Maddaloni and Marguerite Miller of Copake NY. We have collaborated on songs which are signed to Pump Audio, a leading music library for the film/tv industry. George is a world-class musician and producer. "Moggy" has a great ear for music, songwriting, and is also a fantastic photographer! Please listen to some of their songs at
SongRamp
.

The 2005 "Perils in Pair 'O Dice Aplenty" Orchestra (From L): Scott A. Mackenzie, drums; Mike Coronado, bass; Tom Baker, guitar; myself; Susan Condit, violin and mandolin; Gretchen Warren, piano. (Photo by Rexene Collier, April 24, 2005)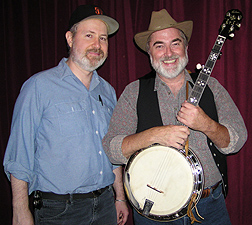 Myself and banjo virtuoso Lloyd Foote at a dress rehearsal for "Dark of the Moon." I was the musical director.
(Sept 2003. Photo by Rexene Collier.)


The "Perilous Pops." (April 2003) This is a dress rehearsal for the melodrama, "Further Perils in Pair O' Dice" presented at the PPAC during our town-wide annual celebration, Gold Nugget Days, which benefits our museum. I served as the musical director. Musicians from L are: Scott A. Mackenzie on drums, Tom Baker, guitar, me on bass, and the best pianist I know, Joseph Zabelski. On the far right is co-writer/director, Len Fulton. The cast is rehearsing their curtain call! (Photo by Rexene Collier)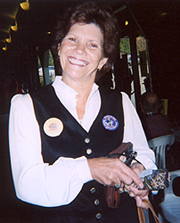 This is my friend and business partner, Rexene Collier at the Melodrama (April 2003. Photo by Gail Carr.) She's also a photographer and has taken most of the photos of me on this site!

Myself with Len Fulton (center) and Richard Lauson, taken at a rehearsal for the April 2002 incarnation of the aforementioned "Melodrama." Len and Richard co-wrote and directed, and I arranged and coordinated the music, and wrote a couple of the songs. (Photo by Rexene Collier)