My Personal Photo Gallery (Friends, family, me and other fun stuff...)
A few shots of my (past) studio (will update soon!):

Mac-based set-up, with a MOTU 828MKII interface. Mackie mixer (L) and control surface (C), Novation control surface (R), Event and M-Audio monitors.



That's a Kawai K2000S. My main keyboard/controller. Note on the upper left is a vintage Alesis MMT-8 sequencer from 1988! One of the most popular hardware sequencers ever made! On the right is an Alesis SR16 drum machine. Also a very popular unit!



My main recording applications are MOTU Digital Performer (above) and Propellerhead Reason.



My mom, Marian (Huff) James in her "Movie Star" days. Yep, she was born in Hollywood.

Allow me to make fun of myself:



I wear a hat 90% of the time. See, I was even born with a hat! Those are my grandparents, Sam and Elaine Huff. Circa Fall 1963.



Who made me wear the bow tie!!?? I look like a future used car salesman! Cool socks, though! This was circa Summer 1966.



Christmas 1966. Oh yes, I still have the snowman! I hold my air better than he does now, though! (But he looks better than I... LOL!)

At McCovey Cove, San Fransisco CA, July 14, 2007. As you can see, I'm a Giants fan! (Photo by Rexene Collier.)



At Lassen Volcanic National Park (CA). July 4, 2004. (Photo by Rexene Collier.)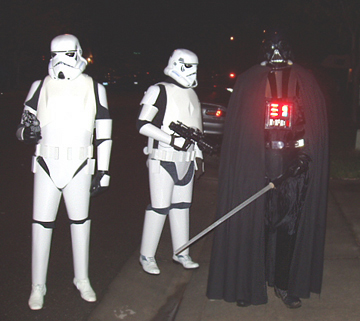 For many years, my friend Ron Tobin and I would appear in some sort of sci-fi (mostly Star Wars related) costumes for Halloween. With the exception of the helmets and blasters, the costumes were all hand-built by us! I think this photo is from 2002. I'm the Stormtrooper in the middle, Ron is on the left and his friend, Jim played Vader that year...



Richard Lauson (R) and myself hamming it up at the Days of Living History (Gold Nugget Museum, Paradise CA). September 2002.




On drums, is my friend and former Butte County CA Sheriff, Scott MacKenzie with one of his high school bands, The Satins. This newspaper photo is circa 1967. Oh, he still plays the same drum kit, which he has kept in immaculate condition!